Stage IIIB breast cancer fits into either one of the following two descriptions, based on the degree of spread:

• The cancer has spread to the tissues near the breast (i.e., the chest wall, including the ribs and the muscles in the chest)

• The cancer has spread to the lymph nodes inside the chest along the breast bone.

Some Stage IIIB breast cancers have a unique appearance and, therefore, belong to a specific type of breast cancer, called inflammatory breast cancer. Inflammatory breast cancer is very aggressive type of breast cancer, meaning that it has a strong tendency to spread.

The unique nature of inflammatory breast cancer is that it makes the breast look red and inflamed. The redness may make the breast even warm to the touch.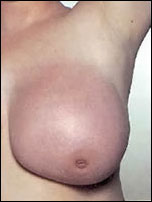 Because the skin of the breast often looks rough and dimply, like the peel of an orange, the appearance is termed peau d'orange. Inflammatory breast cancer may be misdiagnosed as a simple infection.